SMx Digital Audio System
Once again, SimPhonics extends the state of the art in simulation audio systems. The SMx delivers up to 64 channels of streaming audio in a single system. As with our FX-30 system, both Sound and Communications functions are performed in a single system; however any SMx channel can be used for ANY function. A 16 channel SMx system requires only a small 4U space, and 32 channels fit within an 8U space.
All of this is completely programmable via V+, a visual programming language that is self documenting and easy to use. Build your application from existing samples, or we can build it for you.
Tired of buying a system and finding out later it is limited? The SMx system comes with everything from DIS to a full sound simulation system with terrain server in a single package for a single price. Use all of the sounds and radios you need now and in the future at no added costs.
Years of development of new hardware and software has produced a system that is capable of anything you will encounter for simulation audio in a single system. And, it costs less.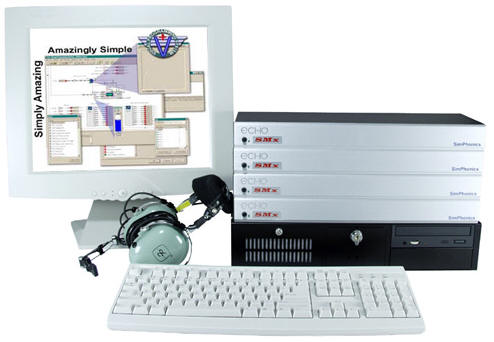 Applications:

Features:

Up to 64 Physical Channels (64 In and 64 Out)

Up to 44.1 kHz Sample Rates All channels, @ 24 Bit

VOX, Mic Power on all Input Channels

Drive Low Impedance Headsets Directly On all Outputs

Sound or Comms on any Channel

Networked or Localized Audio

HLA/DIS Compliant

Unlimited Radios Per Channel (Operators)

3D Audio

Built-in DTED Terrain Server

Built-in Audio wave-file editor, and DIS/HLA Monitor

Variety of Host Interface Options

I/O Sub-System Options, (PTT's, Volume Etc.)

Multi-channel Text-to-Speech - (ATIS, GCA, etc.)

CE and UL rated "universal" power supply that handles voltages from 100 to 240 volts at frequencies of 47 to 63Hz

Mix any stream to any stream, WAVE IN, WAVE OUT, ANALOG IN, and ANALOG OUT

Gain boost on each input channel from 0 to + 60db