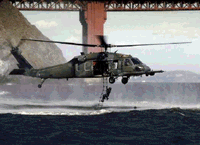 2/2/2004
SimPhonics recently upgraded the HH-60G OFT and HH-60G WST audio systems for Lockheed Martin Information Systems (LMIS) located at Kirtland AFB, NM. The 32 channel SMx systems for the OFT & WST Trainers upgrade the existing FX3000 audio systems installed by SimPhonics back in 1991 & 1992. SimPhonics' SMx systems provide all sound, comm, radios, EW, Secure Voice, ATIS, and DIS/HLA, ICS and voice networking audio for these simulators. 

As part of the installation, SimPhonics verified DIS audio interoperability to the existing ASTi communications system used in the Tactical Operations Center (TOC) there. This interoperability test included all of the modes of audio that the ASTi system was capable of sending and receiving for DIS audio with great success.  

In fact, the SimPhonics system is capable of automatically switching to the appropriate DIS audio format in real time, eliminating the need for support engineers during exercises. Our systems receive any format from the ASTi box (or any other vendor) and automatically convert the data to output in the selected format. SimPhonics, Inc. continues to strive for greater ease of use during these exercises. 

SimPhonics personnel created, installed and integrated all the V+ applications driving their HH-60G OFT and HH-60G WST SMx audio systems.

   Lockheed Martin also procured and hosted a 3-Day V+ Training Class at the Kirtland facility and and will be maintaining, modifying, and updating V+ designs as needed.