The 3D HRTF Audio Database Player object simulates three dimensional sound of a moving entity (such as an overflying aircraft) by playing wave files through two output channels using Head Relative Transform Functionality (HRTF). It is ideally suited for 3D audio in stereo headphones. Since it's a database player, multiple wave files can be selected and played through the use of an index. Dynamic controls for the player include volume, frequency, position, velocity, database index, loop enable, and play enable. Output pins provide a play status and a handle for future expansion. Static data includes a sound device channel, database name, database table name, minimum distance, and maximum distance.
The position and velocity pins are represented by Cartesian coordinates, which are values on three axes: the x-axis, the y-axis, and the z-axis. The axes correlate to a head relative viewpoint as shown in the figure below. Values increase on the x-axis from left to right, on the y-axis from down to up, and on the z-axis from back to front.
As sound propagates away from the source, the sound pressure level decreases at a rate based on a number of factors. For VPLus HRTF 3D Audio objects, this rate is established by the minimum and maximum distance static data (on an individual player basis), and by a VPLus-internal roll-off constant (which applies to all 3D HRTF players). The figure below illustrates the differences between an extremely loud sound (such as a jet aircraft), and a relatively quiet sound (such as a bee). If you were to have both sounds playing in a VPLus design, you would want to set the min/max distances to small numbers for the bee (e.g., min of 0.02, max of 10), and large numbers for the jet (e.g., min of 100, max of 1000).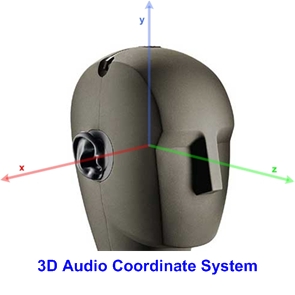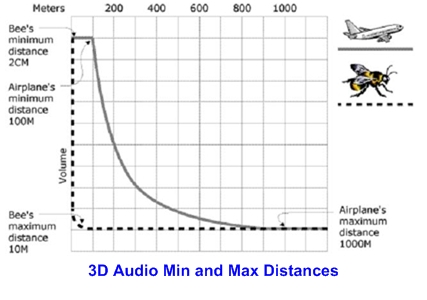 Since this is a database player (much like object 2008), a database has to be constructed to map indices to wave file names. This database can be constructed with any tool capable of ODBC (Open DataBase Connectivity) interoperability. One table exists in the database with three columns defined as follows (ensure that the KEY field has no duplicate entries):

The name of an ODBC data source needs to be established in order for the Database Player to open it and find the table. This Data Source Name (DSN) must match the Database Name set in static data. The name of the table in the database must match the Table Name also set in static data. The Table Name must NOT contain any blank characters.
To set the ODBC Data Source Name:
Note: Also see the 3D HRTF Audio Player Looped.